Pre-conference: Connecting health and climate change
---
Wednesday 10 November, 09:00 - 12:40 CET
Organised by:
ENBEL – connecting Health & Climate Change, RCSI University of Medicine and Health Sciences, Irish Doctors for the Environment (IDE)
This session will bring together both researchers and public health experts to identify how best to translate the findings of climate and health research into international public health practice. In simple terms, the question we will be seeking to address is 'What measures can be instituted over the next ten years to address the impact of climate change on population health with a particular focus on the most underserved groups?' Detailed programme here.
Programme:
09.15 Welcome and introduction
Niall Roche, Centre for Global Health, Trinity College Dublin, Ireland
09.30 The ENBEL project – linking research to practice
Kristin Aunan, CICERO Center for International Climate Research, Norway
09.45 From evidence to practice; a public health perspective
Debbi Stanistreet, RCSI University of Medicine and Health Sciences, Ireland
Climate change: from research findings to practice
10.00 Heat and work
Kristina Jakobsson, School of Public Health and Community Medicine, Institute of Medicine, University of Gothenburg, Sweden
10.20 Air quality and climate change
Steve Arnold, Institute for Climate & Atmospheric Science, School of Earth & Environment, University of Leeds, United Kingdom
10.40 Maternal health and environmental heat
Matthew Chersich, University of the Witwatersrand, Johannesburg, South Africa
11.00 Coffee break
11.15 Panel discussion:
How such interventions can be implemented in practice
The role of public health in ensuring an appropriate response to such evidence in both high- and low-income country settings
Ina Kelly, President of the Irish Medical Association / Consultant in Public Health medicine / Chair of the HSE's Public Health Medicine Environment and Health Group, Ireland
Anne Stauffer, Deputy Director and Head of Strategy for Health and Environment Alliance Europe
Alice McGushin, Programme manager for The Lancet Countdown
12.15 Conclusion and next steps
12.30 Close
Niall Roche, Centre for Global Health, Trinity College Dublin, Ireland
.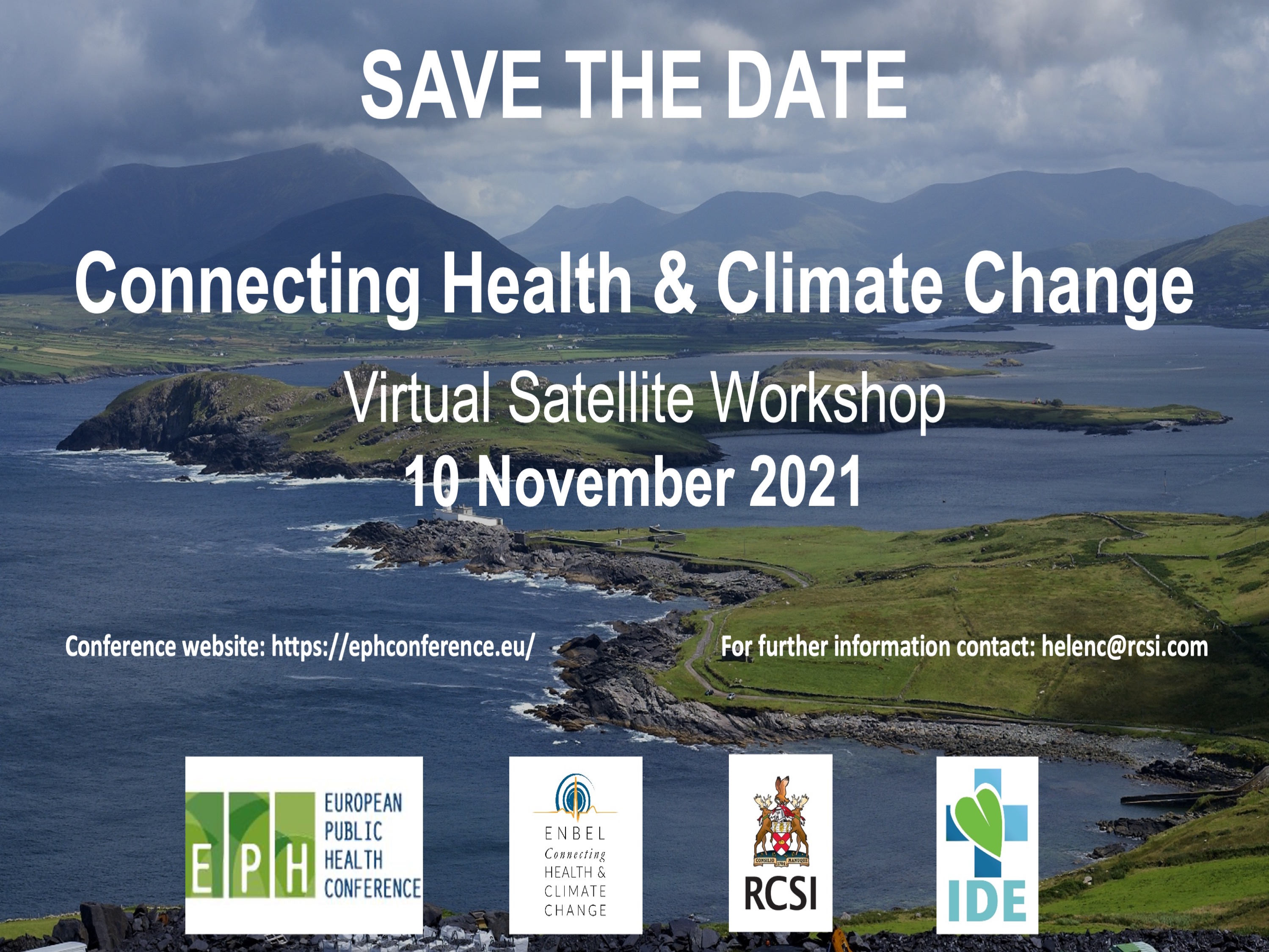 Registration fee
Attendance of the pre-conference is free of charge but registration is required. Pre-conferences can be added to your registration after you have already registered. You can do so by logging into your account and updating your registration. You can also register for the pre-conference only.